NAWIC Pikes Peak Chapter 356 Officers
The chapter Board of Directors meet on the first Thursday of each month at the office of Nunn Construction, Inc. Contact President Karen Mitchell for details on the time and directions.
Meetings are open to the general membership. Most of the chapter business is conducted at Board meetings, leaving more time at the general membership meetings for networking and guest speakers. If you have concerns, please join the Board members on the first Thursday of each month, or give your concerns to one of our directors to take to the meeting.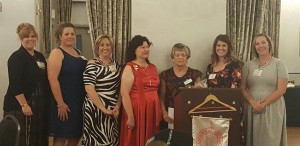 Immediate Past-President:
Karen Mitchell, CBT, CIT
Double M Concrete LLC
719-686-7482
kem0513@aol.com
Past Boards of Directors
1996-1997
President: Susie Calvin
Vice-President: Penny Whitney
Recording Secretary: Bonnie White
Treasurer: Sandy Johnson
Corresponding Secretary: Cathy O'Canna, CCA
Directors: Margaret Ingram
Tracy Dunn
1997-1998
President: Tracy Dunn
Vice-President: Penny Whitney
Recording Secretary: Maureen Moran
Treasurer: Dodi Walch
Corresponding Secretary: Connilee Schwepker/Kate Ellis
Immediate Past-President: Susie Calvin
Directors: Wanda Dominguez
Margaret Ingram
Sandy Johnson
Bonnie White
President-Elect: Cathy O'Canna, CCA
1998-1999
President: Cathy O'Canna, CCA
Vice-President: Sandy Johnson
Recording Secretary: Bonnie Morgan
Treasurer: Val Przychodzin
Corresponding Secretary: Kate Ellis
Directors: Davyne Ryals
Susie Calvin
Julie Airmont
Carol Seilheimer
1999-2000
President: Dodi Walch
Vice-President: Davyne Ryals
Recording Secretary: Tammy Fortenbury/Kate Ellis
Treasurer: Connie Stevenson
Corresponding Secretary: Cassie Chambers/Tricia Hill
Immediate Past-President: Cathy O'Canna, CCA
Directors: Ferne Dillow
Bettie Hicks
Susan Hadfield
Kay T. Kaltenbacher
Carol Seilheimer
President-Elect: Susie Calvin
2000-2001
President: Susie Calvin/Kate Ellis
Vice-President: Bonnie Morgan/Kate Ellis/Tricia Klay
Recording Secretary: Kate Ellis/Jill Mussell/Katie Trapp
Treasurer: Connie Stevenson
Corresponding Secretary: Tricia Klay/Val Przychodzin
Immediate Past-President: Dodi Walch
Directors: Bettie Hicks
Diane Zink (Watson), CIT
President-Elect: Bonnie Morgan
2001-2002
President: Bonnie Morgan
Vice-President: Connie Stevenson/Janet Koscielski
Recording Secretary: Katie Trapp
Treasurer: Sherri Boettcher
Corresponding Secretary: Janet Koscielski/Malisa Martinez/Linda Champlin
Immediate Past-President: Kate Ellis
Directors: Cyndi Wheatley
Diane Zink (Watson), CIT
President-Elect: Connie Stevenson
2002-2003
President: Connie Stevenson
Vice-President: Tammy Kidd
Recording Secretary: Dodi Walch, CDT, CIT
Treasurer: Sherri Boettcher
Corresponding Secretary: Linda Champlin
Immediate Past-President: Bonnie Morgan
Directors: Cathy Andrew
Lynda Rataczack
Cyndi Wheatley
President-Elect: Diane Zink (Watson), CIT
2003-2004
President: Diane Zink (Watson), CCA, CIT
Vice-President: Cyndi Wheatley
Recording Secretary: Linda Champlin
Treasurer: Connie Stevenson
Corresponding Secretary: Penny Wagner
Immediate Past-President: Connie Stevenson
Directors: Cathy Andrew
Sherri Boettcher
President-Elect: Dodi Walch, CDT, CIT
2004-2005
President: Dodi Walch, CDT, CIT
Vice-President: Cathy Andrew, CCA
Recording Secretary: Linda Champlin-Frank
Treasurer: Susie Hadfield
Immediate Past-President: Diane Zink (Watson), CCA, CIT
Directors: Carolyn Cummings
Cathy Watts, CIT
President-Elect: Sherri (Boettcher) Muelhoefer
2005-2006
President: Sherri Muelhoefer
Vice-President: Carolyn Cummings
Recording Secretary: Vanessa Smith
Treasurer: Susie Hadfield
Immediate Past-President: Dodi Walch, CCA, CDT, CIT
Directors: Angeliqe Kallio, CIT
Aimee Sandor
President-Elect: Linda Champlin-Frank
2006-2007
President: Linda Champlin-Frank
Vice-President: Bettie Hicks
Recording Secretary: Marsi Loving
Treasurer: Cathy Andrew, CCA
Immediate Past-President: Sherri Muelhoefer
Directors: Rhonda Brennan
Connie Stevenson
President-Elect: Carolyn Cummings
2007-2008
President: Carolyn Cummings
Vice-President: Connie Stevenson
Recording Secretary: Marsi Loving
Treasurer: Cathy Andrew, CCA
Immediate Past-President: Linda Champlin-Frank, CIT
Directors: Rhonda Brennan
Wendy Hibbert
2008-2009
President: Katie Trapp
Vice-President: Cathy Andrew, CCA
Recording Secretary: Bonnie Morgan, CIT
Treasurer: Dodi Walch, CCA, CDT, CIT
Immediate Past-President: Carolyn Cummings
Directors: Marsi Loving
Brenda Bratton, CIT
President-Elect: Wendy Hibbert
2009-2010
President: Katie Trapp
Vice-President: Cathy Andrew, CCA
Recording Secretary: Karen Mitchell
Treasurer: Brenda Bratton, CIT
Directors: Marsi Loving
Rhonda Brennan
President-Elect: Carolyn Cummings
2010-2011
President: Carolyn Cummings
Vice-President: Linda Champlin-Frank, CBT, CIT
Recording Secretary: Karen Mitchell, CIT
Treasurer: Robyn Van Kooten, CBT, CDS, CIT
Immediate Past-President: Katie Trapp
Directors: Marsi Loving
Cyndi Wheatley
2011-2012
President: Linda Champlin-Frank, CBT, CIT
Vice-President: Karen Mitchell, CIT
Recording Secretary: Cyndi Wheatley
Treasurer: Robyn Van Kooten, CBT, CDS, CIT
Immediate Past-President: Carolyn Cummings
Directors: Marsi Loving
Katie Trapp
2012-2013
President: Linda Champlin-Frank, CBT, CIT
Vice-President: Robyn Van Kooten, CBT ,CDS, CIT
Recording Secretary: Katie Trapp
Treasurer: Leah Ash
Directors: Berni Mount
Cathy Andrew
President-Elect: Karen Mitchell, CBT, CIT
2013-2014
President: Karen Mitchell, CBT, CIT
Vice-President: Robyn Van Kooten, CBT, CDS, CIT
Recording Secretary: Katie Trapp
Treasurer: Leah Ash
Immediate Past-President: Linda Champlin-Frank, CBT, CIT
Directors: Berni Mount
Cathy Andrew
2014-2015
President: Karen Mitchell, CBT, CIT
Vice-President: Katie Trapp
Recording Secretary: Berni Mount
Treasurer: Robyn Van Kooten, CBT, CDS, CIT
Directors: Angelique Kallio, CIT
Kasey Chapot
2015-2016
President: Karen Mitchell, CBT, CIT
President-Elect: Berni Mount
Vice-President: Katie Trapp
Recording Secretary: Kasey Chapot
Treasurer: Jennifer Walker
Directors: Valerie Bates
Christina Townsend